AUDITIONS
The Laramie Project & The Laramie Project: 10 Years Later
By Moisés Kaufman and members of the Tectonic Theater Project
Directed by Elizabeth Paldino
THE STORY:
Laramie, Wyoming is a pleasant town that was thrust into national attention following the 1998 murder of gay student Matthew Shepard. The story draws from a series of interviews conducted by members of the Tectonic Theatre Project with the people of Laramie and explores the reactions of the inhabitants to the events surrounding them. Ten years after Shepard's murder, members of Tectonic Theater Project returned to Laramie to conduct follow-up interviews with residents featured in the play.
SEEKING: Additional young females ages 17+
The Laramie Project is an ensemble piece, where actors will play multiple roles. Please note that this is a Staged Reading and actors will not have to memorize lines for the performance, however, they should become comfortable reading aloud from the script.
AUDITIONS:
Friday, August 9 @ 7:30 p.m.
AT GRACE HALL, 116 CITY ISLAND AVENUE
Performance Dates Are:
September 20 (Fri) & 21 (Sat) @ 8:00 p.m. and
22 (Sun) @ 3:00 p.m

For more info email: auditions@cityislandtheatergroup.com
or call 718-885-3066

CITY ISLAND the MOVIE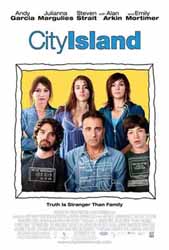 Release:
Directed by:
Screenplay by:
Produced by:
Production companies:


Cast:






March 19, 2010 (NY & LA), Expanding March 26
Raymond De Felitta
Raymond De Felitta
Andy Garcia, Raymond De Felitta, Lauren Versel, Zachary Matz
CineSon Productions & Medici Entertainment in association with Lucky Monkey Pictures, Gremi Film Production and Filmsmith

Andy Garcia, Julianna Margulies, Steven Strait, Dominik García-Lorido, Ezra Miller with Alan Arkin and Emily Mortimer

PG-13
100 Minutes

Set in a quaint fishing community on the outskirts of New York City, City Island is a hilarious and touching tale about a family whose comfortable co-existence is upended by surprising revelations of past secrets and present day lies.
Vince Rizzo (Andy Garcia) is a lifelong resident of the tiny, tradition-steeped Bronx enclave of City Island. A family man who makes his living as a corrections officer, Vince longs to become an actor. Ashamed to admit his aspirations to his family, Vince would rather let his fiery wife Joyce (Julianna Margulies) believe his weekly poker games are a cover for an extramarital affair than admit he's secretly taking acting classes in Manhattan.
When Vince is asked to reveal his biggest secret in class, he inadvertently sets off a chaotic chain of events that turns his mundane suburban life upside down. Inspired by the exercise, he decides to bring his long-lost ex-con son Tony (Steven Strait) home to meet the family, and it soon becomes clear that everyone —including his college student daughter (Dominik García-Lorido), teenaged son Vinnie, Jr. (Ezra Miller), charismatic acting partner (Emily Mortimer) and drama coach (Alan Arkin)— has something to hide. A perfect storm of deception, half truths and confusion makes Vince and his family members realize that the truth may not set them free, but it is easier to keep track of than all their well-intentioned white lies.
Winner of the Audience Award at the 2009 Tribeca Film Festival, City Island spins a web of misrepresentations, misinterpretations and misunderstandings into a smart and charming comedy about a family that stops at nothing to avoid the truth.